Camp Alleghany is a family-owned and operated business and has been for three generations. Currently, the directors include Sam Dawson, and his daughter Elizabeth Dawson Shreckhise, who are assisted by Bonnie Dawson, Head of Special Events, and four phenomenal administrative team members. Together with their staff and counselors, these seven leaders effectively operate, maintain, and organize all of the functions of Camp Alleghany.
Sam Dawson, Director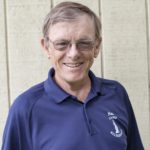 Sam spent eight summers as a camper at our brother camp, Camp Greenbrier Boys Camp, and then worked at Alleghany on our  Green Team in the 1960s. In 1984 he became the Associate Director, working under his father S. Cooper Dawson, Jr. During the 80s and 90s Sam managed almost all aspects of camp. In 2000 he took over as the Director, and he works year-round for Camp Alleghany. A Certified Camp Director, Sam loves camp and holds Alleghany to the highest standards, continuing to earn the American Camp Association's accreditation status each year. He looks forward to each summer with excitement and anticipation and hopes to see all of you at Alleghany this year! Sam lives with Bonnie in Staunton, Virginia.  Contact Sam.
Elizabeth Dawson Shreckhise, Assistant Director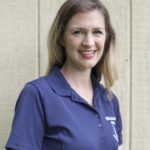 Elizabeth spent ten summers as a 'Ghany camper beginning at age 7. She then became a Junior Counselor, full-fledged Counselor, and served in leadership roles such as Head of Dance, Unit Head, Head of Junior Camp and then Senior Camp. She's been the Assistant Director since 2008. Elizabeth communicates with parents and oversees all camp activities, program planning, staffing, and professional development. During the off-season she oversees marketing, hiring, communications, program planning, strategy, and more. As a third-generation director, it's her mission to bring 'Ghany in to the 21st century while preserving its rich history and traditions. Elizabeth has an MA. in Education and Human Development from George Washington University and was formerly a school counselor. She lives in Staunton, Virginia with her husband Matt and three sons, Mason, Ellis, and Noah. Contact Elizabeth.
Casey Tucker, Program Director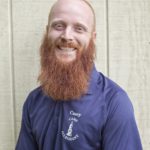 Casey began as Camp Alleghany's Program Director in early 2017 after working at Birch Trail Camp for Girls in northern Wisconsin for six summers.  There he served as a Wilderness Trip Leader and Trip Director. Realizing his passion for the industry, he found a great opportunity to work year round for Alleghany.  Casey's passion for the outdoors, young people, camping, and adventure are legendary and infectious. After all, what's life without sharing a good adventure? Contact Casey
Bonnie Dawson, Head of Special Events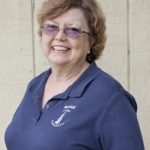 Bonnie was introduced to Alleghany when she married Sam in 1970. Over the years she's been Head of Drama and Wild World, Head Hopper, Store manager, and a Senior Camp tent Counselor. She's currently the Head of Special Events, managing Alleghany's special ceremonies such as Babies' Boats, Candlelight Campfire, and the Mini Camp Banquet and Show of Shows. Bonnie also handles risk management and emergency procedures and leads a non-denominational service on Sundays. Bonnie lives in Staunton, Virginia with Sam and is a retired science teacher. She always looks forward to the serene, peaceful setting of the West Virginia Mountains, and seeing the happy, smiling campers every day. Contact Bonnie
Garrett O'Dell, Facilities Director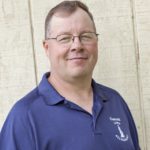 Garrett has been with Camp Alleghany since the summer of 2010. As the Facilities Director, and supervisor of The Green Team, he loves working year-round for Camp Alleghany and with all the staff. He takes great pride in his work; whether fixing a leaky faucet, building a new porch, attending camp conferences, or managing his team, he has a passionate drive for Camp Alleghany's success! Contact Garrett.
Beth Anne Clark-Thomas, Mini Camp Director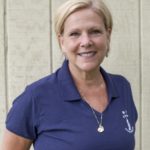 Beth Anne (BA) has spent more than 40 years as a camper, counselor, Unit Head, Department Head, Upstart Mom, and now Director of Mini Camp. She is also very active with Camp Alleghany Alumni, remaining joyfully engaged year-round, and bringing loyal, veteran alumnae back to work alongside her at Mini Camp, connecting and serving at the L.O.L. Alumni Weekend, enjoying Family Camp together, and more!  BA has a Masters and Ph.D. in Education, and is a University Professor in Northeast Ohio.  Contact BA.
Louise Dawson, Office Manager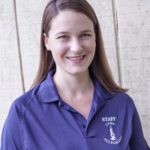 Louise spent 13 summers on the banks of the Greenbrier River. After eight years as a camper, she worked as a Junior Counselor, Counselor, Unit Head, Upstart Mom, and taught canoeing. Louise met her husband, Cooper Dawson, at camp when he worked on the Green Team. After ten summers spent at Tent Raisings and Family Camp, Louise joined the family business as our Office Manager. Cooper and Louise live in Lynchburg, Virginia with their daughter, Sally, who she loves bringing to Camp Alleghany during the summers! Contact Louise.
Save