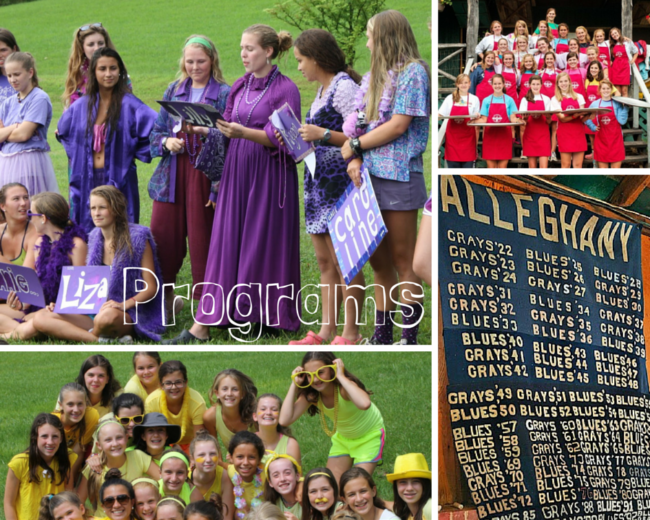 Camp Alleghany's Programs are organized by things like age group, friendly Color Team competitions, camp service activities, and opportunities for increased leadership and responsibility in campers.
Startups
The 12-year-old campers at Alleghany are known as Startups and their group color is yellow. The oldest girls in Junior Camp, Startup girls take on extra responsibilities with the help of their Startup Mom (a Counselor position), such as leading a campfire once a summer. They make sure younger campers brush their teeth and get to bed on time, take outgoing mail to the postmistress after Rest Hour, and lead songs at Milk and Cookies. The Junior Camp Blue/Gray team captains are also Startups.
Midways
Thirteen- and 14-year-old campers are Midways and their group color is teal. They have a Counselor known as a Midway Mom to help with their transition to Senior Camp, and have a few classes with her each term. She also supports them as they take on new responsibilities, including flag raising in Senior Camp, and leading morning devotions in Assembly.
Upstarts
Fifteen- and 16-year-old campers participate in the Upstarts program and their color is red. As the oldest campers in camp, Upstarts serve as leaders and role models for the younger campers and enjoy some extra privileges and responsibilities.
An Upstart's main duty is to supervise a tent of younger campers at Rest Hour and Bedtime when that tent's counselor has time off. This experience gives the girls a sense of responsibility, introduces them to a counselor's position, and allows them to form friendships with younger campers. Upstarts also have an important role in many activities such as assemblies, Campfires, Vespers, and a booth at each Term's carnival.
Upstarts enjoy the privilege of living in their own tent, with their counselor living next door. Once a term the Upstarts' counselors take them into town to enjoy an evening out at the local theater. Additionally, Upstarts have their own activity period, supervised by their very own Upstart Mom – the Assistant Head Counselor of Senior Camp. In this activity period they share their experiences, develop leadership skills, grow closer to their peers, and have fun! Many Upstarts also choose to take part in Camp Alleghany's Hopper Program (see below).
Blue/Gray
Blue/Gray competitions run throughout both terms of camp, and culminate in one team being named the winner for the summer on the last night of second term in our Banquet ceremonies. Startup and Upstart Captains lead their respective teams with pride, passion and, most importantly, a strong sense of sportsmanship. They are supported by Blue/Gray Counselor Mentors, who ensure that the program's events are fun and fair. Camper Color Teams participate wholeheartedly in activities such as Swim and Canoe Meets, Rifle, Archery and Tennis matches, relay races, capture the flag, trivia games, and more, and cheer on their team mates when not competing. Dating from 1922, the Blue/Gray competition underpins camp values of citizenship, co-operation and sportsmanship, and is one of the most loved traditions at Alleghany!
Hoppers
Hoppers are 15- and 16-year-old campers who elect to serve as waitresses in the Dining Hall. They dine earlier than the rest of camp so that they may set the tables and serve food to the campers and Counselors. The Hopper Program is very popular and Hoppers enjoy working together in the Dining Hall building teamwork and camaraderie. Interested campers should submit a request in writing before the summer starts for this role. Hoppers earn a small stipend, but may choose to count their hours towards community service. The Hoppers are supervised by a Head Hopper, usually a Camp Alleghany Alumna, who ensures they take pride in their work and have a great time.
Junior Counselors (JCs)
Alleghany has a Junior Counselor (JC) training program available to 17-year-old girls who attended camp the previous summer as 16-year-old Upstart campers. Prospective JCs must apply to be accepted into the program. JCs, whose color is purple, are responsible for a tent of campers and teach three activity periods a day. They spend their fourth activity period in JC Training with their JC Mom (an experienced Counselor position), which is designed to support them through their first summer as counselors. They also experience some fun rituals and an initiation that is much-anticipated and enjoyed by all involved. At the end of summer, JCs graduate into full-fledged counselors and Tinges (the pink-and-purple-hued color of Counselors who came through the JC Program).