SPECIAL ONE-WEEK BLACK FRIDAY EVENT!
Get ready for #summer2019 with a one-week 10% off discount on all Camp Alleghany for Girls branded clothing from our online retail partner Everything Summer Camp. To get the discount, follow the instructions below:
Camp Alleghany has long partnered with Everything Summer Camp to offer a year round store with Camp Alleghany for Girls branded clothing, gear, and supplies.  Click the link above or the picture below to be transferred to their website to shop for everything from clothing to gear. We still offer the basics (shorts and tee shirts, sweatshirts and sweatpants) at our Camp Store in the summer, but if you'd like to buy anything ahead of time, take advantage of their occasional specials like the Black Friday event listed above, or buy any of the specialized clothing, please visit Everything Summer Camp.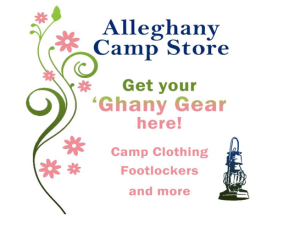 Camp Store
Separate from Everything Summer Camp, we also offer a few special items for purchase through our camp office. If you are interested in any of these, please call our office at (877) GHNY.GRL to place your order. Checks and credit cards accepted. 6% sales tax included in all prices, and we will add $3.00 shipping fee for orders under $15.00, or $8.00 shipping fee for orders over $15.00. Questions? Contact us at The Camp Office.
Songbook
$5.30
Baby Bib
Color: White
One size
$6.36
Alleghany Onesie
Color: White with navy logo
Sizes: 6 months, 12 months
$10.60
Go Blue Onesie
Color: Navy with white lettering
Sizes: 6 months, 12 months
$10.60
Go Gray Onesie
Color: Gray with white lettering
Sizes: 6 months, 12 months
$10.60
Future Green Team Onesie
Color: Green with white lettering
Sizes: 6 months, 12 months
$10.60
95th Summer Tee
Color: White with Blue Lettering
Sizes: Youth Medium-Adult XL
$18.00
Blue Team for Life Tee
Color: Blue with white lettering
Sizes:Youth Medium-Adult XL
$15.00
Gray Team for Life Tee
Color: Gray with white lettering
Sizes:Youth Medium-Adult XL
$15.00