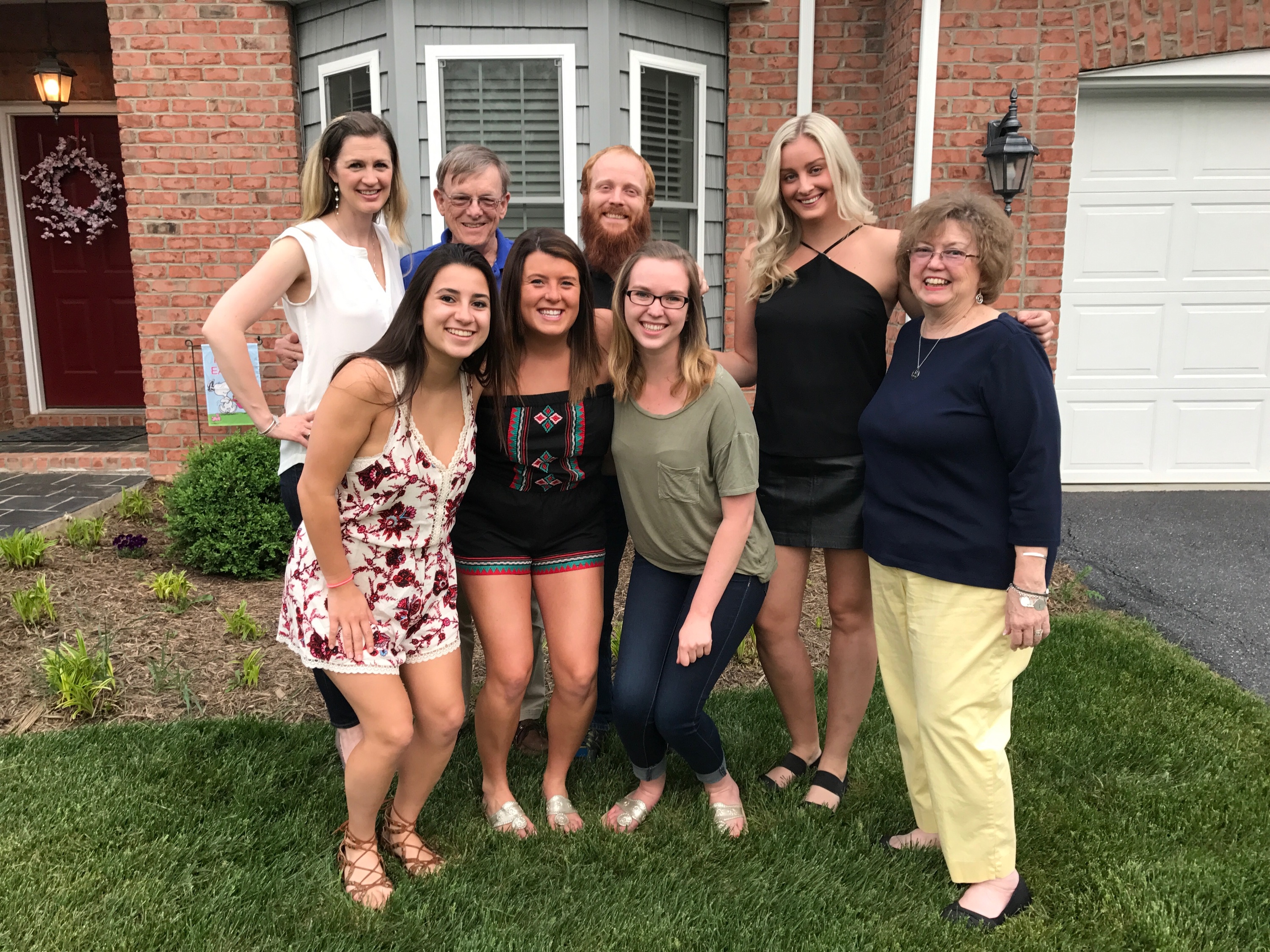 During the last weekend in April we held our annual Head Counselor Spring Planning retreat weekend at the Camp Alleghany for Girls winter office in Staunton, Virginia.
It was a great turnout with five out of six Head Counselors in attendance. We forgive Rachel's absence since she couldn't very well cross the pond from England for just two nights only to have to return to camp six weeks later! But we missed her and can't wait to see her!
This was, of course, our new Program Director, Casey Tucker's, first Spring Planning weekend, and I know he was excited about it.
We started Friday night with a sociable dinner, and then headed outside for an ice breaker that involved A LOT of silly string (even our Special Events Director — and my mom — Bonnie  Dawson participated! Our venerable Director, Sam Dawson, merely watched, tsk tsk — haha!).
Then we dove into the meat of the evening. We explored our theme for this summer (which won't be revealed to the rest of counseling staff until Staff Training), and had a discussion about leadership and what it means to be a Head Counselor. This took us to pretty much 11:00pm, when we ended for the night, and let everyone hang out —  or go to bed! (I for one crashed, since we started so early Saturday morning and I still have a nursing baby to keep up with!)
Rise and Shine
Saturday morning began with a working breakfast over a discussion about the emerging Leaders-In-Training Program. We talked over the new updates on this program (that we published in mid winter in a blog post) and ideas we have for this summer. Our goal was to get everyone excited about Summer 2017 ideas and approaches and that worked out wonderfully. Our Head Counselors team is so on board and brings a load of enthusiasm and readiness for leading our teams this summer.
Then we discussed our master calendars and schedules for the summer — what those look like and how we share information about it as a head team. We discussed a few new things coming down the pipe that are how we as a team organize the camp flow, and covered some elements from last summer that those Head Counselors who didn't work last summer wouldn't be familiar with. With that, everyone was brought up to speed and on the same organizational page.
And then we made a few decisions about some other administrative changes for this summer and nailed down all of our shared structures so that we can operate as a finely tuned machine. I feel great about this team, as does Casey. It was all very productive.
After lunch we got to work on looking at all our counselor and camper numbers, to see how many tents of campers we need in each unit. This led to some preliminary tenting that is just at the very beginning stage and will change and develop over the next weeks as we head toward camp and finalize preparation of our campers' homes away from home.
Finally it was time for some group or individual meetings with either me and Casey about each Head Counselor's unique and specific job and responsibilities. This was a great way to deepen our interpersonal working relationships, shared goals, and the depth of what it takes to work together effectively. Everyone really enjoyed this process of digging in even more.
The Head Counselors, creative mavens that they are, then composed a rhyming welcome email to all the Counselors. It was silly as usual, as at least SOME aspects of camp should and must be for staff as well as campers. That's what makes camp, camp!
A Toast to 2017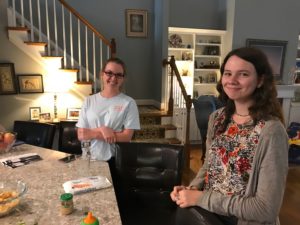 We wrapped things up and got ready for dinner out at the Clock Tower Restaurant in Staunton. Dinner was a great celebration of all our hard work, and everyone was super pumped about the upcoming summer.
I always tell the Head Counselors to beware because this weekend is such a teaser — it gets everyone so excited, but then they all have to go back to school and take exams! I'm sure everyone is counting down the days until we're back together in our little slice of paradise and making a fabulous summer of camp come alive for all our dear campers!
As for pictures, as usual I got so busy and wrapped up in the fun and work that I forgot to take any pictures of us hard at work around the table.
I did snap one picture of Emily and Alex in the kitchen (Junior Camp represent!), and then we took our traditional pre-dinner photo, although Emily had to leave before dinner for an important final exam back at school. So we're missing two of the six Head Counselors in that photo, but at least Emily is in the one other picture I took!
Next time you're hanging around with me and something important about camp is going on, please take pics and send them to me — I'm simply not a very reliable camp photographer and could really use some crowd sourced photo sharing!
But the important this is that great strategy and planning work did get done and that's the most crucial lens for our focus! (Okay, bad pun, but you get the…picture!) 🙂
Casey and I are so looking forward to this summer, and we're thrilled about this team. We can't wait to plunge into our 95th anniversary (96th summer) of hosting girls and women on the banks of the Greenbrier River at Camp Alleghany for Girls!
— Elizabeth Dawson Shreckhise, Assistant Director, Camp Alleghany for Girls
Save