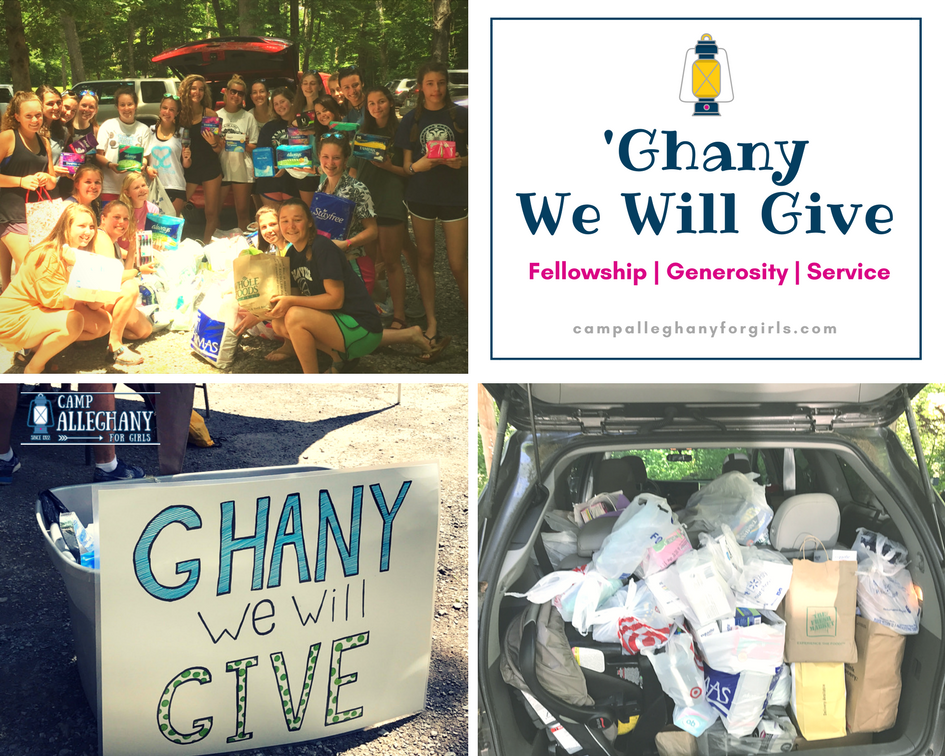 As always, I couldn't be more proud of the engaged, generous, thoughtful community that is the greater Camp Alleghany for Girls community of friends, alum, current campers, counselors, and camp families! And why am I singing your praises so delightedly? Because you blew my mind with this summer's 'Ghany We Will Give (GWWG) charitable giving project.
For those not in the know about this (maybe just new folks because I think we had 100% participation), our Summer 2017 Ghany We Will Give was explained in a blog by the ever-wonderful Laura Gorsuch, one of our alums and the Chair of 'Ghany We Will Give. This summer was a donation drive of feminine hygiene products for low-income girls in the Greenbrier Valley County Foundation (GVCF) service area.
And when we asked you to get on board — boy did you get on board! Thank You, Thank You, Thank You and give yourselves a hand!
Every summer we've been very successful in our service projects, but this summer's GWWG was the most popular we've ever done. The much-needed donations came POURING in.
On Opening Day of Mini Camp, and both sessions of Term Camp, we always set up a large collection bin in the parking lot for whatever we're donating through 'Ghany We Will Give that summer. And this summer I had to empty the donations into my car every 30-60 minutes because it was filling up so fast — all three sessions!
Earlier in the summer, during Staff Training, Laura Gorsuch gave a brief presentation to the counselors about our GWWG outreach for the summer, and we literally had counselors cheering about it. They were very excited to participate, a sentiment that was clearly shared by our whole extended community. Somehow the idea of "girls helping girls" was a catalyst of enormous power and meaning for our girl-focused camp!
Spreading the Love
Interestingly, both Mini Camp and First Term generated so many donations that the school system actually said they couldn't take any more — they had more than enough! They were worried that they didn't have any more space for storage of all the items.
But once you've got 'Ghany Girls Giving…I'm telling you, that is not the time to tell a 'Ghany Girl to stop!
Since we still had Second Term donations coming down the pike, er, um, over The Barge, and we definitely wanted to include second term campers in 'Ghany We Will Give, we wondered where we could direct these other donations. The GVCF gave a few recommendations of who might also need feminine hygiene products, and we decided to focus on a women's shelter in Lewisburg.
It was wonderful to be able to see our impact increase across the region. Originally our GWWG donations were targeted to the local middle and high school students that Laura wrote about. Now we were able to reach a women's shelter, too!
And naturally THAT sparked a 'Ghany Girl idea storm—  now that we know more about this women's shelter we may consider doing a future GWWG geared toward them in particular, especially since everyone loved "girls helping girls." (And as "women helping women" we just may need to pull our L.O.L. Alumni Weekend and Family Camp attendees in as well! 🙂 )
Even though Opening Days at camp are slated for our greatest donation drive please don't imagine that it stopped there. Donation items appeared in the office throughout the summer, probably mostly from our generous and thoughtful staff members. This was the first time I've seen donations continue to come in throughout the summer — everyone was just so taken with the mission of this particular project.
We really feel strongly that we tuned into a very palpable need in the Greenbrier Community and one that resonated with all our campers, staff, and camp families. This definitely inclines us to continue looking at the needs of girls and women in the region, and how we can best partner to extend our camp mission into outreach that harmonizes with that. Everyone really seemed to be moved in a heartfelt and engaged way that we will always remember.
Thanks again to all of you for your participation. We can't do this without YOU!
Indeed, at its heart, 'Ghany We Will Give is about each of us individually, and the force of all of us together. We're overwhelmed with gratitude!
— Elizabeth Dawson Shreckhise, Assistant Director, Camp Alleghany for Girls
I invite your daughter to be a part of this amazing community of girls and women. Please, download my FREE e-book, 3 Reasons to Begin Your Child's Sleepaway Summer Camp Journey Early and help her get started on the experience of a lifetime:

Save