One of the oldest skills cultivated by ancient peoples is one we still practice at Camp Alleghany for Girls: Archery.
In the past few years this sport has spiked in popularity, thanks in part to recent book and movie portrayals of archers, especially strong female characters. At Camp Alleghany, we have an amazing Archery program where young women can summon their ancestors, or channel their inner Katniss Everdeeen, protagonist of The Hunger Games literary trilogy, or Princess Merida of DunBroch from the animated Disney Pixar film Brave.
Home, Home on the Range
Beyond Junior Camp and the Sports and Fitness Hut you'll find our top notch Archery Range. The large hut holds bows and top of the line carbon arrows suitable for the youngest novice archer on up to the girl shooting towards her American Archer Award, a designation given by the Camp Archery Association of the United States when the archer scores a 100 points or better with 30 arrows from a distance of 50 yards. That's impressive!
On either side of the hut is a broad firing line, allowing more shooters more time to hone their skills.
All Archery staff are trained in safety, technique, and archery instruction before campers arrive. Their keen eyes and kind encouragement keep the girls engaged, safe, and striving towards the next goal.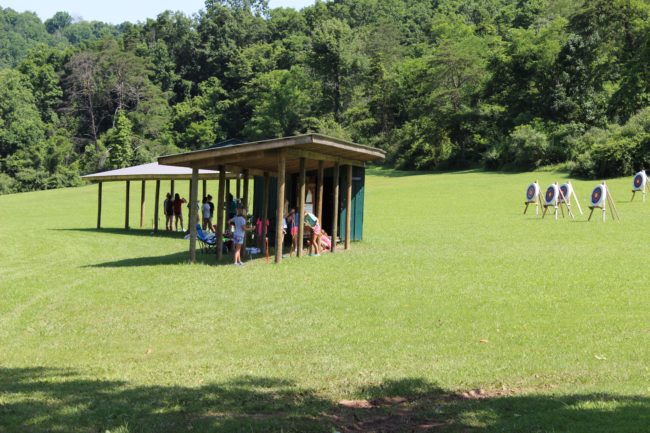 Nock, Nock, Nocking
Every Alleghany archer starts shooting at a target 15 yards down range. As they build their confidence and skills – breath control, patience, persistence, and hand-eye coordination to name a few – they advance by shooting qualifying scores.
From the 15 yard line, they move to the 20 yard line, followed by the 30 yard line, 40 yard line, and perhaps even to the 50 yard line! An archer shooting a qualifying score from the 50 yard line achieves the highest award recognized by The Camp Archery Association, the American Archer cited above. This progression gives girls something to work towards from Mini Camp on through their final summer at 'Ghany.
While the top award is very difficult to obtain, we did have a 'Ghany Girl earn her American Archer in the summer of 2017!
This slideshow requires JavaScript.
The Upshot
We also have a friendly competition with Camp Greenbrier's boys each term. During First Term, six girls travel to Greenbrier to compete, while Greenbrier's archers come to Alleghany during Second Term. Our girls take a lot of pride in what is normally a stiff competition. This past summer we split, Greenbrier winning First Term, Alleghany the Second Term victor.
We hope campers will consider coming down to Archery Range next summer to shoot a few rounds and give your best Katniss impression. We'll be there to cheer you on when you hit the center bullseye!
— Casey Tucker, Program Director, Camp Alleghany for Girls