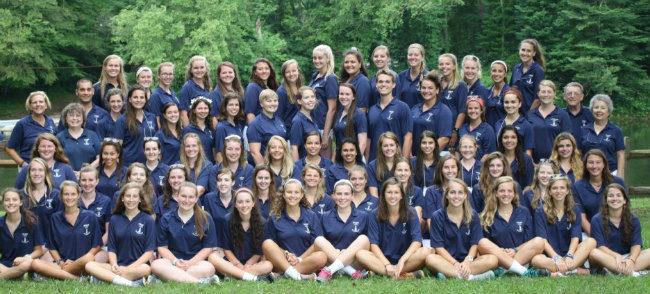 Staff and Jobs Hub
Brief Jobs Overview
Counselors at Camp Alleghany for Girls are women aged 18 and older, many of whom attended Alleghany as campers themselves. All staff members must apply, interview, and submit to a background check annually. At the start of each summer, the staff undergoes 10 days of training and orientation. All staff members receive CPR/AED certification as well as instruction in child development and communication, in alignment with the American Camp Association's standards and expectations for counselor training. Read our full Counselor Job Descriptions.
Our Junior Counselor (JC) Program is made up of former campers who apply after having attended Camp Alleghany for their Sixteen Summer.
Mini Camp has two types of counselors — our regular staff to teach day activities and facilitate other aspects of camp, and an older, all-Alumni group of women who are tent counselors for our Mini Campers.
Our Green Team is an all-male support team that works to manage our summer facilities.
The Medical Staff is comprised of one-week camp residents who are medical doctors and registered nurses.
Our support staff fills various other roles in camp from the office to the Dining Hall to helping with various programs.
Every year we work hard to select the best counselors to work at Camp Alleghany, and it shows. We draw a national and international staff of dedicated women counselors. In addition to our own jobs recruiting, we work with Camp America and Camp Leaders to meet and cultivate international staff members.
Meet Your 2017 Staff!
Photo Gallery of #Summer2017 Staff (Updated with each new hire/jobs still available)
Save
Save
Save