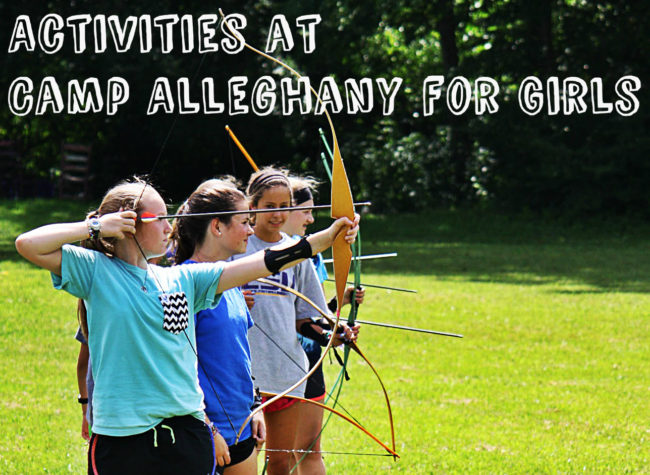 At the beginning of each Mini Camp and Term Camp session, campers sign up for four daily activities, selected from the twelve that Camp Alleghany offers. By focusing on four activities, campers have the opportunity to master skills, accomplish real goals, and succeed in passing set progress levels.
In addition to their four activities, campers have two periods of unstructured time daily during which they may attend Free Swim, play tennis or pick-up games/sports, write letters home, shower, relax, or simply play on tent row. Counselors supervise all activities, structured and unstructured.
We also include a variety of programs in the Camp Alleghany experience that relate to age groups, service, friendly competitions, and leadership. See our Programs page for details.
Alleghany Singers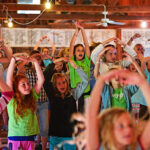 Singing is a big part of daily life at Camp Alleghany — whether a camper takes singing or not. But a camper can take singing in the form of the Alleghany Singers, who meet on the Cottage Porch, learning new songs and practicing old ones. They are taught special harmonies and melodies to camp tunes that others may not know, and that they can then pass on to the rest of camp. All levels of singing are welcome. The girls sing during our weekly, non-denominational church services, and perform a few favorite selections during the last campfire of each term. They also get the chance to sing over the loud speaker to the whole of camp at certain times during the term! Enjoy hearing some Camp Alleghany songs now by visiting our song player. Alleghany Singers perform at the final campfire of each term, performances that will be videotaped and available to parents after camp on the Parent Portal of your CampMinder account!
Archery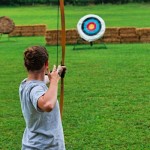 In Archery, campers learn basic shooting skills and work through the American Archery Association progression levels. Instructors encourage individual achievement and the mastery of the sport, as well as the development of self control and discipline. Alleghany has a well-supervised archery range with highly trained counselors and the latest equipment for the campers' use.
Arts & Crafts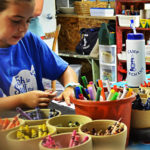 In our Arts and Crafts Lodge, campers develop skills and creativity in their chosen projects with the help of experienced counselors. A wide variety of craft supplies makes it possible for the campers to complete more than one bigger project a term. A professional potter visits camp each term to teach pottery skills for those interested. Other projects include pillows, wooden stools, woven baskets, bead jewelry, painting and drawing, and more. Daily exercises help strengthen art terminology and skills. The campers show off their work at the end-of-term Art Show.
Canoeing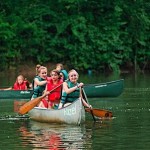 In Canoeing, campers learn the fundamentals of canoeing, from the basics of paddling to handling a canoe safely. The girls progress through four skill levels and eventually may become assistant instructors. Campers wear life jackets at all times while in the canoes and are supervised by a staff of lifeguard-certified counselors trained in canoeing skills and river safety. When the river rises appropriately, the instructors may plan canoe trips down the Greenbrier River for the campers to test their skills in new conditions and experience the excitement of canoeing!
Dance
Campers who sign up for Dance receive instruction in the fundamentals of modern dance from trained counselors. All skill levels are encouraged to join the fun. Throughout the term the girls choreograph a dance to their chosen song with the help of their dance instructors, gaining self-confidence, grace, and poise. At the end of the term, dance-campers perform in the Dance Show, a fun and lively night for the whole camp. This show will be videotaped and available to parents after camp on the Parent Portal of your CampMinder account!
Drama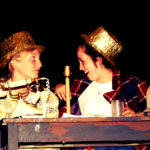 In Drama, campers learn the basics of theater art as they memorize their lines and rehearse their scenes for the play. They also gain practical experience in stage managing, scene changing, makeup, and costuming. Everyone who signs up receives a part! The campers show off their hard work at the end of the term by performing their play for the entire camp at the Drama Show. This show will be videotaped and available to parents after camp on the Parent Portal of your CampMinder account!
Sports and Fitness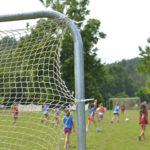 Alleghany offers individual activities in both Sports and
Fitness — and sometimes a combination of both! In Sports, counselors teach the fundamentals of soccer, basketball, kickball, volleyball, field hockey, lacrosse, and more! Girls enjoy the variety of learning new sports and playing outdoor games with a focus on fun and sportsmanship above all.
Fitness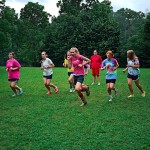 In Fitness, a camper is given the opportunity to set personal goals for improving her overall fitness, whether shortening the time it takes her to run a mile, building her strength and challenging her with wall-sits, or simply aiming towards feeling healthier in herself. Counselors supervise and support all campers in their aims, and the girls love tracking their achievements over the summer.
Rifle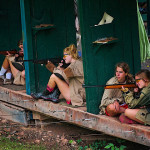 Rifle offers campers the opportunity to learn the techniques of safely shooting and handling a .22 caliber rifle on our heavily supervised rifle range. Campers progress through four skill levels with the goal of "shooting their Expert." The Rifle Staff emphasizes safety and requires all campers to learn and follow the range commands. All of Alleghany's Rifle instructors are NRA certified and are trained according to National Rifle Association standards by a certified instructor. Providing a safe environment allows the girls to learn and excel in this unique and popular sport.
Ropes
Camp Alleghany offers a low ropes challenge course consisting of 12 elements for teaching cooperation and teamwork. Based in a woodland area on the edge of camp, campers spend time problem solving and developing their communication skills as they attempt to master each element. In addition to the course, campers take part in fun team-building games, learn the proper safety commands, use a slack line, and do trust falls with certified instructors. Ropes is combined with our Wild World activity.
Swimming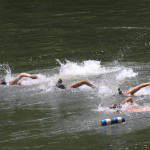 Campers at Alleghany swim in the beautiful Greenbrier River! Swimming offers a combination of learning and fun. All counselor instructors are certified lifeguards, and the Swimming program follows all Red Cross progressions from Beginner to Junior Lifesaving. Instructors place campers into small groups according to their ability to ensure that each girl receives maximum attention and help from her instructor. Optional "Free Swim" periods are open to all campers—  regardless of whether they sign up for the Swimming activity — during free time every day (weather permitting).
Tennis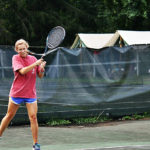 On our six tennis courts, a staff of professionally-trained instructors teaches the strokes, footwork, and tactics of tennis. The ratio of camper-to-instructor is small so that each girl may receive some individual instruction. If a camper has been receiving instruction from a professional at home, our instruction is carefully coordinated to complement that. Additionally, the campers may participate in match competitions and tournament play as time permits. The tennis courts are open to all campers — regardless of whether they are signed up for Tennis — during free times for practice or friendly competition.
Wild World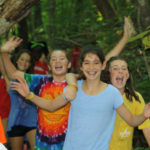 Wild World is designed for girls who love the great outdoors. Activities include hiking, overnight camping, creek walking, nature crafts and more, all with a focus on learning about our environment. Instructors teach campers how to build campfires safely and how to cook a full meal over a fire, and the girls have a great time using their new found skills around camp.